Core & Key Features
Everything is included
Everything is included
Everything is included
Everything is included
Monthly Active Users (MAU)*
10,000/mo
25,000/mo
50,000/mo
100,000+/mo
MAU Overage Rate
$0.08 per user
$0.06 per user
$0.04 per user
Custom
Concurrent Included
500
1,250
2,500
5,000+
Concurrent Overage Rate
$0.75 per concurrent
$0.65 per concurrent
$0.55 per concurrent
Custom
Message Storage
Unlimited
Unlimited
Unlimited
Unlimited
Support Response
Email
Email
Email + Support Calls
Email + Support Calls
Included
Included
Included
Included
Advanced Moderation
Additional fees apply
Additional fees apply
Additional fees apply
Additional fees apply
Moderation Dashboard
Included
Included
Included
Included
HIPAA, SOC 2, GDPR, ISO 27001
Included
Included
Included
Included
AI Image Moderation
Included
Included
Included
Included
Image & Files CDN
Included
Included
Included
Included
Bandwidth
$0.12 per GB
$0.12 per GB
$0.12 per GB
$0.12 per GB
Storage
$0.05 per GB
$0.05 per GB
$0.05 per GB
$0.05 per GB
Monthly resized images
$4 per 1,000 images
$4 per 1,000 images
$4 per 1,000 images
$4 per 1,000 images
Monthly video preview images
$4 per 1,000 images
$4 per 1,000 images
$4 per 1,000 images
$4 per 1,000 images
Auto Translation
Included
Included
Included
Included
Multi-Tenant
Included
Included
Included
Included
2FA
Included
Included
Included
Included
SAML / SSO
Enterprise only
Enterprise only
Enterprise only
Included
Shared Slack Channel
Enterprise only
Enterprise only
Enterprise only
Add-on upgrade
24/7 Emergency Phone
Enterprise only
Enterprise only
Enterprise only
Add-on upgrade
Dedicated AWS Region Stack
Enterprise only
Enterprise only
Enterprise only
Add-on upgrade
*Any user who connects with our Chat API for read/write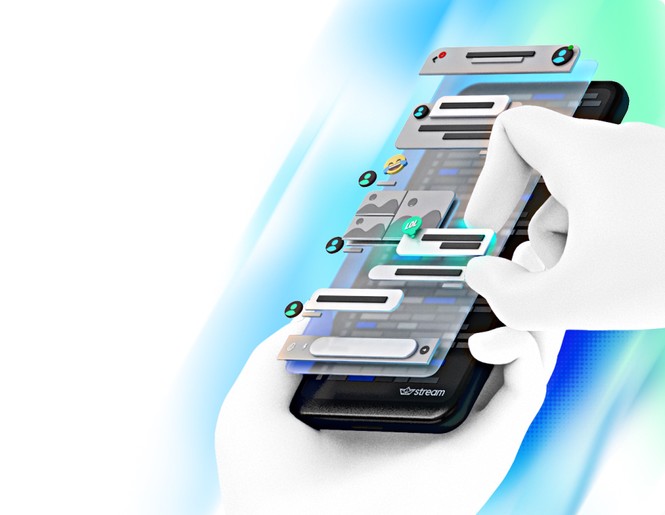 Free for Makers
If your company has five or less team members, less than $10k in monthly revenue and have taken less than $100k in funding, Stream is free/gratis/complimentary. Get started with your Maker Account today - availability is limited!
MAKER ACCOUNT INCLUDES:
Powering Enterprise Chat
Rapidly deploy scalable chat messaging with an industry leading 99.999% uptime SLA guarantee.
Simple Overages
Unpredictable growth doesn't have to be a surprise. Overages can occur for either MAU or concurrent connections. If over on both, the higher number is used for that month.
User Experience
Deliver a chat experience that your users demand. With our straight-forward and infrastructure-based pricing you can plan for your future growth easily with Stream.
Scale without Limits
Stream is trusted by thousands of companies and more than a billion end-users to reliably scale, regardless of demand.
Stream Advantage
Build chat messaging experiences customized to your unique case, without the headache of becoming an expert or spending months on development.
Available Options
24/7 Emergency Support

Shared Slack Channels

AI Text & Image Moderation

99.999% Uptime SLA

SSO, SAML, 2FA

Audit logs

Dedicated AWS Region Stack
Let's Discuss Your Use Case
Learn more about our custom solutions
"Instead of just telling us a price and a plan, Stream is committed to understanding our business so that we can architect, build, and customize our apps exactly how we want them using Stream's technology"

"With Stream Chat incorporated into our application, our users will now be able to book appointments through forms directly available through chat, and we expect this new functionality to have a huge, positive impact on business"

Sadeepa Wijesekara
VP, Engineering
Frequently Asked Questions
We gracefully handle connection failures and recover as soon as the internet connection is back. The tech is based on Go, RocksDB, Raft and WebSockets.
We reuse a lot of the tech and best practices from activity feeds. For chat we currently have extensive QA and monitoring in place.
iOS and Android push notifications are supported out of the box. In case you need more flexibility webhooks are also available.
Stream allows you to build your own chat bots. You can use webhooks to parse messages and reply to them. You can also add custom attachments to messages to enable rich interactions such as picking a location or selecting a date.
Search is supported by the API and is included in the pricing.
MAUs are defined as any user that connected to chat in the last calendar month. If you show chat to all users of your app, your Stream Chat MAU will equal your total user base. If Chat is more hidden as a feature, your Stream Chat MAU will likely be a subset of your total user base.
You can add custom fields to messages and you can also attach different types of attachments. Common examples include sharing a product, a live score of a match, a date picker or any other type of interactive/rich interface.
What is Peak Concurrent Connections
Peak Concurrent Connections is measured as the point in the monthly billing cycle at which the most open WebSocket connections are established between devices and Stream for the organization.
The most common method of opening a WebSocket connection is using the connectUser() (or SDK equivalent) method described
here
.
A single user, or user_id, can have multiple open WebSocket connections. For example, if they are logged in on multiple devices or an integration error has occurred.