Education School
Chat Messaging
Build virtual classrooms and communication apps with Stream's Chat, connecting students, teachers, and parents with a secure, fully-featured messaging solution.
Safe & Secure
SOC2, ISO 270001, HIPAA, GDPR + a 99.999% uptime SLA. <30 min support response and a Slack channel with our team are available.
Custom Staff Permissions
Allow your teachers and staff to easily moderate the chat messaging for their classes.
File sharing & URL previews
Secure file sharing & URL previews: Previews for videos and links that you share. Secure and easy file uploads.
Pinning Messages
Pin syllabi, assignments, and reminders to chat rooms to make finding resources simple and straightforward for students.
Reactions & Threads
All the modern messaging essentials your users expect. Threads, replies, reactions, typing indicators and read state.
Millions of Concurrent Users
Stream powers chat and activity feeds for a billion end users. Feel confident about your app's uptime when all students use it at once.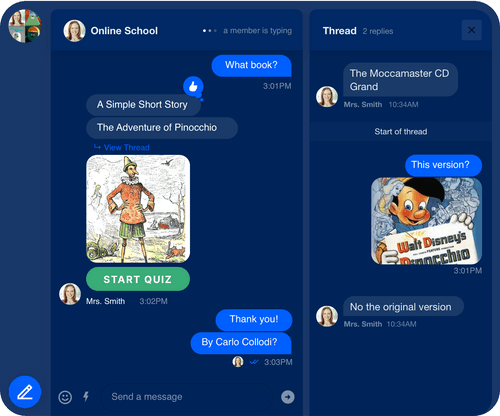 Improve Education with Real-time Communication
Live chat gives students an intuitive and stress-free option to participate in virtual classroom discussions and stay engaged, while in-app messaging connects students and teachers for secure one-on-one communication — all in a familiar format that keeps conversations focused and productive, with zero technological barriers.
Chat for Learning Platforms
Remote education is positioned to improve learning for everyone — as our world opens, it also becomes smaller, connecting students, teachers, and parents in ways previously unknown. With Stream, you can build communication experiences that enhance learning, teaching, and collaboration.
Slash commands

Unlimited users per channel

Moderation

Channel permissions

Custom business logic

SOC2, ISO 27001, HIPAA, GDPR
Kiddom Case Study
Learn why Kiddom chose Stream to handle communication within their LMS platform
Read Now →
Student+ Case Study
Learn why Student+ chose Stream for connecting students within their app
Read Now →
Build a Communication App with Stream
Our messaging API & SDKs were created by developers, for developers. Leverage the API or integrate our libraries and components. Save time with less maintenance so you can focus on your unique value.
Cloud Components
EdTech Chat Resources
Our comprehensive resources features interviews with innovative edtech entrepreneurs, strategic tech partners, and best practices.
Powering Chat for Online Education
Rapidly deploy edtech chat messaging with an industry leading 99.999% uptime SLA guarantee.
Enterprise Scalability
Teams trust the Stream Chat API to scale world-wide, regardless of load without going down and impacting their app performace or usability.
API Infrastructure
Our 9ms avg API response time infrastructure is built with GO, RocksDB and Raft. Confidently build any kind of HIPAA compliant app without the scalability and feature headaches.
Trusted for Excellence
Stream is trusted by hundreds of teams and more than a billion end-users to reliably scale, regardless of demand.
Our Happy Customers
We power chat messaging for some of the largest virtual events platforms in the world. Companies like Kiddom trust Stream to elevate their user experience with chat.
Security & Compliance
Available Options
24/5 Emergency Support

Shared Slack Channels

AI Text & Image Moderation

99.999% Uptime SLA

Audit logs

SSO, SAML, 2FA

Dedicated AWS Region Stack
Let's Discuss Your Use Case
Learn more about our custom solutions
"The Stream Chat integration process was basically just one line of code. It almost felt like cheating because it was so easy to integrate."